Historic California Climate Solution Program Would Fund World's Largest Solar Farm Network
Solar Farm Expansion Program would meet state's 2045 goal of carbon-free electricity generation while preventing dust bowl on aquifer depleted farmland.
A massive renewable energy program proposal developed as a UC Davis graduate ecology course, in collaboration with the new Climate Solutions Advocacy Institute, would create the largest solar farm network on earth, much of it on aquifer depleted farmland in California's Central Valley.
The California Solar Farm Expansion Program, comprised of four related bills, would, over the course of 20 years, provide the most comprehensive renewable energy climate solution ever implemented and end the burning of all fossil fuels for electricity generation. 40% of California's electricity is currently being generated by carbon emitting natural gas. By replacing all of this electricity generation with renewable solar energy, it would allow the state to achieve its goal of zero carbon electricity by 2045.
In their  2021 SB 100 Joint Agency Report, three of California's most important environmental agencies, the California Energy Commission, Public Utilities Commission and the Air Resources Board, laid out the state's comprehensive plan for meeting its 2045 legal deadline for 100% renewable sourced electricity. The report predicted that California will need to generate more than 80% of new renewable energy capacity from solar. More than 71% of this, the report stated, would need to come from utility-scale solar farms, which cost just one-third the expense of rooftop solar. 
Achieving California's legislatively mandated renewable energy objectives, the report explained, will require tripling the existing rate of utility scale solar construction, and increasing the rate of new battery storage construction for solar and wind energy by eight times.  
But while the state's targets are crystal clear, California's government has not provided an organizational mechanism to achieve this. The marketplace currently produces only one-third of the new solar farms, and one-eighth the battery storage capacity that California requires. 
It is as though the state has legislated a mapped destination of where our energy system needs to be, but provided no roads to get us there.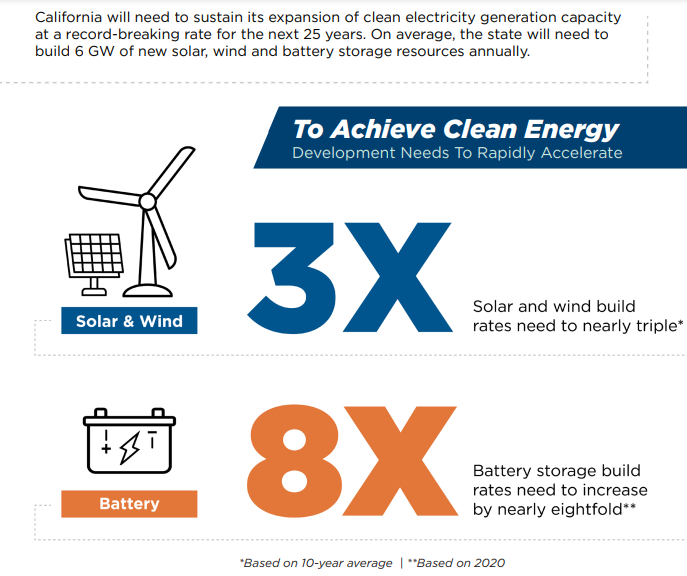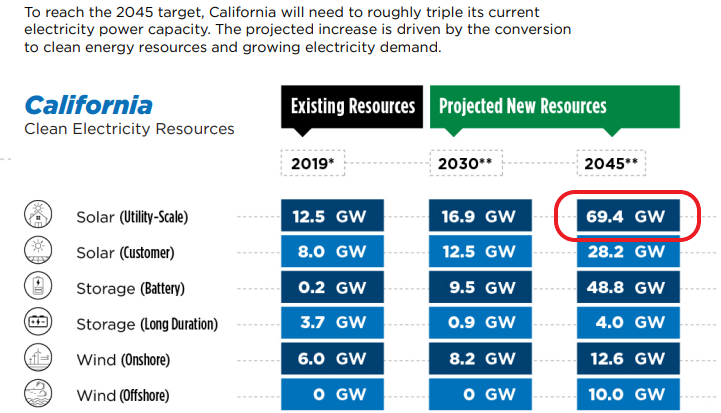 CSAI's proposed Solar Farm Expansion Program fills this gap by creating a funding pathway that would ensure California meets its zero-carbon 2045 deadline, and in the process, implement the largest climate mitigation system in history.
The bill would provide $3 billion annually in green bond funding and be paid for by utility companies contracting for and selling the renewable electricity generated by the farms.
Each year $2 billion would be spent to finance about 20 new solar farms, averaging 600 acres and 100 MWh of electricity generating capacity. An additional $1 billion would be spent on power storage and transmission lines to move the electricity to where it is needed.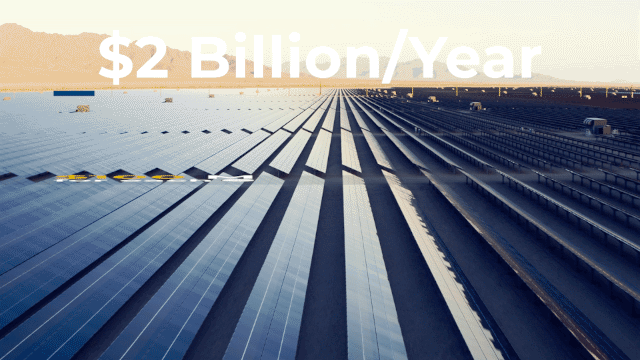 California's Central Valley is among the sunniest areas of the United States. Solar panels in the region receive more than 2,000 hours of electricity generating sun each year. With minor improvements in panel efficiency, the bonds would pay for 50 Gigawatt (billion) hours of capacity- as much as all the solar energy currently produced in the United States put together.
This massive network of solar farms would replace the 95,000 GWh of climate-harming fracked natural gas that is currently used each year by the largest state in the country, while occupying less than 1% of the agricultural land in the state.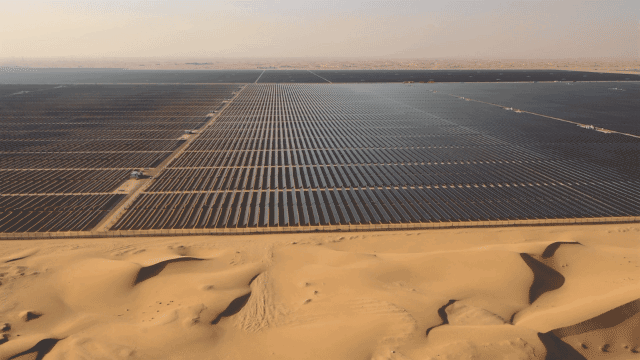 The installations would be built and managed by private operators on land leased from private property owners, with farm owners in the sun-drenched, drought-stricken Central Valley given priority for leases.
The solar panels would also provide critical shade for the land, helping keep water in the soil and fight back against imminent desertification and toxic dust bowl conditions in the Central Valley. Arid property would get a second life while the shade would reduce the amount of dust being put into the atmosphere in an area with some of the worst air pollution in the nation. At the same time, thousands of new construction jobs, as well as long term jobs operating and maintaining the solar farms would be created.
By the project's completion, California would emerge as a world leader in solar energy production, and a model innovator of climate solutions that serve the common good.
To overcome the core obstacles that have slowed down or killed utility scale solar projects, we are proposing four historic new solar farm-related bills, hopefully to be introduced in the legislature in 2023. 
At the center of the program is a new law that would incentivize the massive expansion of privately operated utility scale solar farms on about half of the 500,000 acres of drought-impacted farmland in the San Joaquin Valley. Because this fallowed farmland can no longer be cultivated due to drought, reduced water allocations and depleted aquifers, it threatens to add toxic dustbowl pollution to an area that already has some of the worst air quality in the state.
More details coming soon!